All lectures will be room K3.25 on the third floor of the John Anderson Building.
The timetable (as of 4/8/2011):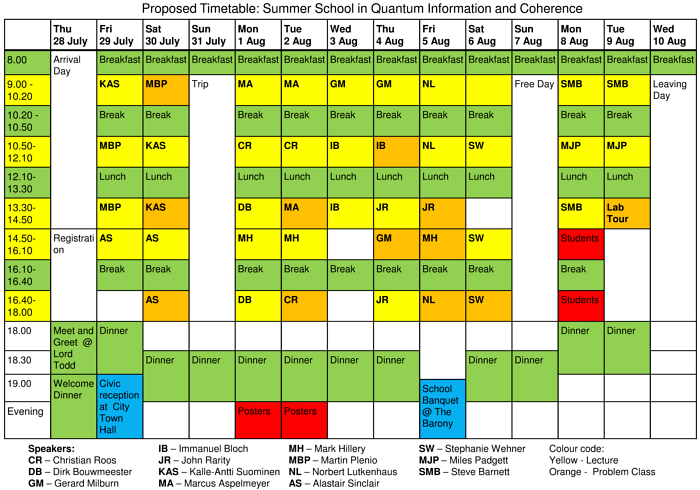 Please note that this is in draft and that details are subject to change.
School Banquet, Friday 5th August
The School Banquet will be in the Barony Hall, located a hundred metres East  of the Village. Drink reception will begin at 1900 in the Winter Gardens, with dinner at 1930. There will be a few complementary drinks (soft and non-soft), but there will also be a cash bar for any extras. The evening will finish by 2230.
Ceilidh, Scottish Social Dancing, 8pm Saturday 6th August
Laurie's Acoustic Music Bar: If you would like to go to a Ceilidh and do Scottish dancing, see Nikhil Ratanje (local helper +44 7949 507 910) or Constantina Polycarpou to express interest. The expedition will leave from Todd's Bar at 1930 on Sat.
Lab Tours, Tuesday 9th August
These will take place on Tuesday 9/8 starting from the lecture theatre J3.25 at 1330.