Dear SUSSP67 participant,
We are looking forward to welcoming you to Glasgow for the SUSSP67 Summer school on the 28th July 2011. On the arrival day (28th July) there will be no lectures as such, but there will be registration and a welcoming event. On arrival please first collect keys to your accommodation as explained below, and then go to the registration point to collect your conference pack and further information.
The rest of this entry contains information on the accommodation arrangements, meals, poster sessions etc.
ACCOMMODATION:
The accommodation is at the University of Strathclyde Campus Village, which is in the city centre of Glasgow. The school is held on the same site. You will need to collect your keys from building 26 on the Campus Village Map. The address is:
Village Office
Weaver Street
Glasgow
G4 0NP
A larger map shows the position of Weaver Street. If you make it to Collins street however, the building is only a short walk from there. Bedrooms are available from 2pm onwards and rooms should be vacated by 10am on the  day of departure.
The reception desk is manned 24 hours a day, so there is no restriction as to when you must check in by. However if you expect to arrive late in the evening, please advise us of this. Once you have your keys you are free to come and go from the accommodation as you please. Access is 24 hours.
REGISTRATION:
Registration will be at another building on campus on the afternoon of the 28th July, details will be available from the point at which you collect your keys. If you do not arrive in time for registration you will be able to register the next morning.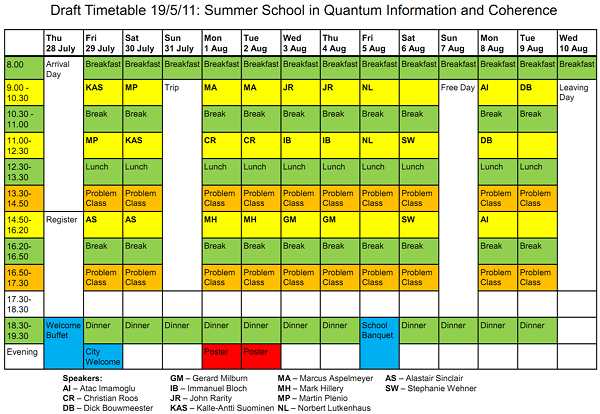 The timetable is preliminary. However some things are finalised. The arrival day is the 28th July. The departure day is the 10th August. No lectures will be held on these days. Accommodation is booked for the night of the 28th July to the night of 9th August inclusive.
TRANSPORT:
Glasgow Airport – The Campus Village is about a 20 minute drive from the airport. However there is also a frequent bus service which takes you to Buchanan Bus Station.
Prestwick Airport – A train to Glasgow Central Railway Station takes 50 minutes.
Bus Station – Buchanan Bus Station is a 10 minute walk or 5 minute taxi ride to the village
Train Station – Both Central and Queen Street Railway Stations are within a 10/15 minute walking distance of the Campus Village, or alternatively a short taxi journey of c. 5 minutes.
If you come by private car please note that no parking is available for free. There are however Glasgow City Council and NCP car parks on the Campus, but charges apply to all visitors.
Map of SUSSP 67 Important locations
A larger map of the Glasgow area is here:
View Larger Map
MEALS:
Almost all meals will be provided in the conference fee, and will mostly be on site. One or two events are planned at other locations, but you will be informed of this at the time.
POSTER SESSION:
There will be poster sessions on Monday 1st August and Tuesday 2nd August. Please feel free to bring a poster of up to A0 Portrait style. There is no selection process for posters – all contributions are welcome. However, if there is a shortage of space we will restrict to at most one poster per participant. There will be at least one prize for the best poster.
A SHAMELESS ADVERT:
The Physics department at the University of Strathclyde is now running a taught MSc course in the topic of the school – Quantum Information and Coherence. Please pass this flyer to anyone who you believe may be interested.